"Love moves in sync with the cadence of forgiveness, sings in tune with the melody of acceptance, and dances in the rhythm with the music of companionship." Sometimes you just need a few days away to clear the space, reconnect, and cherish the special bond that connects a marriage. We all get caught up in the hustle and bustle of the daily flow, the business of running a house, a family, and in our case two businesses. We try to sneak away a few moments during the busy day but it isn't always easy. Let's be honest by the end of the day, after we've exerted any remaining energy to complete bedtime routines and tuck the girls into bed, it is a struggle to stay awake let alone truly be present to connect and enjoy each other. We have tried to initiate a weekly date night but for us, at this point, it's not quite realistic, so we are still trying for once a month.
This past weekend my hubby and I snuck away Palm Springs without the kiddos. We attended one of the most beautiful, real, and revelatory wedding ceremonies. I am honored to have been asked to stay at the small Mediterranean where the wedding was held. If you are looking for a place to truly escape the day to day, then Korakia Pensione might be the perfect oasis for you. Be warned as it is definitely not for every couple. There are not any TV's in the room- so don't drag your hubby there during the "big game" or fight (there was a UFC fight this weekend but my man survived). There is also not a Bar or restaurant on the premise but there are kitchens in each bungalow so you can BYOB and prep any snacks you may want. There is complementary yoga classes, couples massages, and delicious breakfast that you can enjoy during your stay. My favorite part is the view, every twist and turn through the hotel is another beautiful scene. Bougainvilleas grace every surface, you can hear water trickling from the one of many fountains and waterfalls on the premise. If you are looking for a place to get away to celebrate a special occasion then a splurge to stay here should be considered.
The inn consists of Bungalows, villas, and studios each with private seating area and one of a kind amenities from hand made furniture, high wood beam ceilings, and stone showers. We stayed in the Paxos Suite but I honestly do not think you could wrong in any of them. We took advantage of the free bikes to cruise to town. It is located close to the main street with shopping and restaurants and great people watching. There are 2 salt water heated pools and they are both surrounded by fire pits. Travel and Leisure named the pool "one of the sexiest pools in the world." Make sure to spend some time lounging outside at night to enjoy the lit candles flickering throughout the property.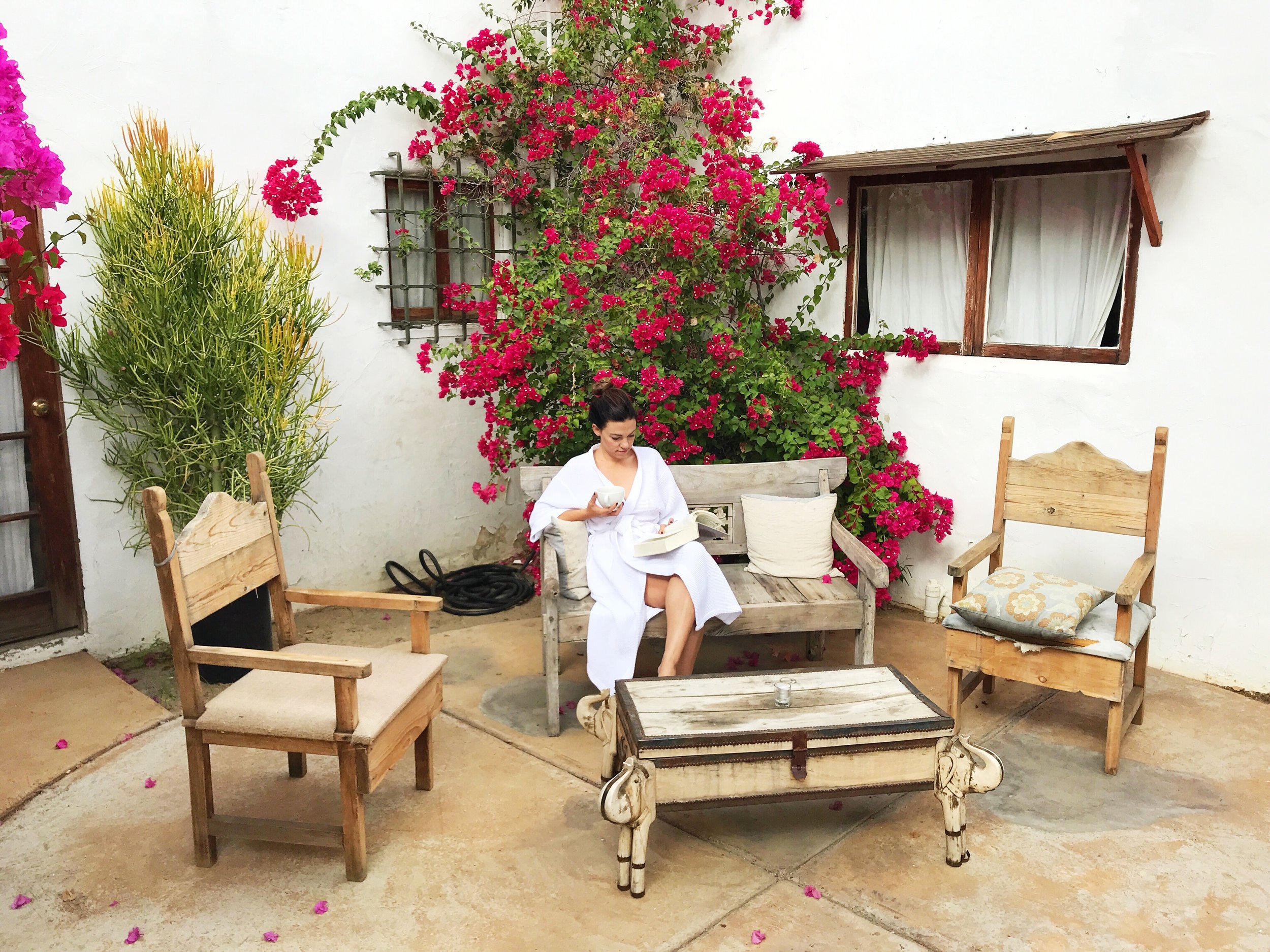 As for #whatiwore during the wedding weekend. Since it is a wellness resort, I did spend a significant amount of time in yoga cloths. We snuck in 2 yoga classes and a hike. Lately I've been living in my Fabletics high wasted Lisette legging. They are my new favorite "mom jeans" of leggings, providing great support for that little pooch trouble area. My pink velour sweatshirt is from Target. It isn't available online anymore but I saw it in stores last week. As for the dress I wore to the wedding- it is perfect for winter wedding because there is a built in shawl to keep you warm. I would suggest borrowing it from Rent the Runway. It wasn't available for me to rent but I was able to snag a great deal on eBay.
Lisette High Wasted legging- Fabletics
Dahlia Cape Gown- Halston Heritage (it just went on sale!)
Let's not forget one of the best parts of traveling, trying new food. My friend Mara, who got married this weekend, knows good food! We met in college and she has never disappointed when it comes to picking where or what to eat. So this weekend did not disappoint. In fact my husband said it's the best food he's had at an organized event ever! So big kuddos to you, Maj! Every meal was catered. The lunch was a Mediterranean spread consisting of Moroccon Chicken, hummus, a crisp kale salad, fresh feta and pita. The chicken dish reminded us of a slow cooker Chicken Marbella that I make, so I'm sharing the recipe at home. If you can't make it to a Mediterranean Oasis, bring a Mediterranean oasis to your kitchen.
Slow Cooker Chicken Marbella
4 Chicken breasts, Skin on, or 6 thighs
3 garlic cloves, smashed
1 TB oregano
1 tsp Salt
1 tsp Pepper
1/2 cup dried plums (prunes)
8 large olives, sliced in half
1 TB capers
3 bay leaves
2 TB brown sugar
1/4 cup red wine vinegar
1/2 cups white wine
Garnish: 1 TB Parsley, chopped
Combine all ingredients (except for parsley) in a slow cooker. Low for 5 hours.
Top with chopped Parsley. Serve alongside couscous, feta and pita.
Enjoy!