Mondays can be crazy. Sometimes I feel ready to conquer the world and sometimes I feel like I'm a dog running in circles chasing my tail. My oldest daughter switched schools a month ago, going from a full day of kindergarten to just pm kindergarten. I welcomed the extra hours in the morning home with her but now find it so much harder to get back into a routine to get stuff done. Housework seems to be piling up. I turn my back on 1 task and find 5 more to do. I try to remember to embrace this chaos cause soon the girls will be at school all day, this time together as it is now is fleeting.
Mondays we like to cook together. Today we recreated the Sushi that I made in Big & Lil Chef class last Friday. I started this class several years ago, 7 to be exact when I didn't yet have kiddos of my own. I continued teaching it as Alexandria was a tiny baby. She would nap (in the storage closet) during class while I read a story and lead the moms and kiddos in making a snack. Then eventually she grew big enough to attend class. It was a very exciting day for both of us. Now both of my girls are old enough for class and they both got to attend this past Friday.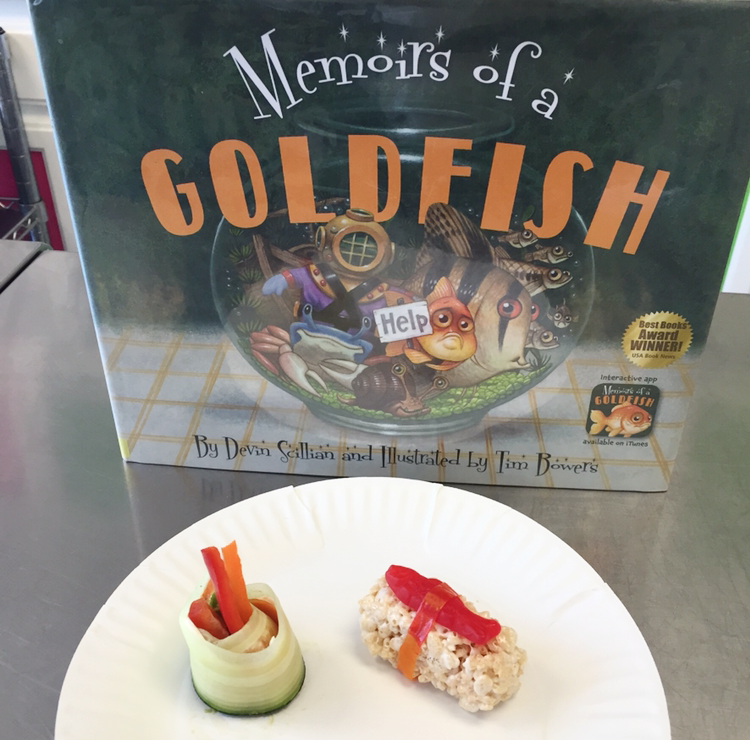 Tips for getting in the kitchen with your little ones
For this snack, I suggest reading a story either about fish or chopsticks, I would highly suggest Memoirs of a Goldfish, by Devin Scillian or Chopsticks, by Amy Krause Rosenthal. Amy happens to be one of my all time favorite children's book authors. As for the sushi, there are 2 options to make, I call them the "just for kids Sushi rolls." The first is a great way to introduce more veggies into your kiddos diet. The wrapper is cucumber, sliced super thin using the side of a box cheese grater. Then the kiddos can use a butter knife to spread on hummus or use a fork to mash avocado along 1 piece of cucumeber. Then layer in thin slices of veggies, the more colors you can use the better. With my girls, I encourage picking 1 of each color of the rainbow. I prepare the bell peppers into slices and let them cut them into smaller pieces. I also suggest letting kiddos use safety scissors to cut the veggies. If you are feeling adventurous add in slices of the dried Seaweed, you can often find it a Costco or Trader Joes in travel size packs. Place all the veggies on 1 side of the cucumber and let your kiddos roll the ingredients up to make a "sushi" roll. Add in 1 gold fish cracker and it's ready to eat.
The next sushi roll is a sweet treat version. Simply prepare a batch of rice crispy treats but instead of pressing the mixture into a baking dish, spray your kiddos hands with cooking spray and give them a chunk to form into the "rice" base. Layer on a Swedish Fish (or chop a strawberry to look like a fish), cut a fruit roll up into a 1/4" strip and wrap it around.
This is a great chance to talk with your kiddos about food from different parts of the world. Sushi is from Japan and Japanese people even like to eat raw fish for breakfast. Also share that sushi is typically eaten with chopsticks. Give your kiddos a pair and let them practice. To make it easier for the kiddos to use you can roll the wrapper paper into a small "burrito" and place it in between the chopsticks before you break them apart. This will allow them to simply squeeze the chopsticks to get a feel for how to hold them and use them.
"Sushi" Rolls
1 cucumber, Sliced into thin strips
1 avocado or Hummus
1/2 Bell Pepper, any and all colors
carrots, grated
Seaweed snack
Goldfish snacks
Adults: slice the cucumber into long, thin, strips.
If your kiddos are very little but bell pepper into slices, otherwise slice it in half and let bigger kids cut into strips. Cut avocado into slices
Kiddos: Mash the avocado, spread on the hummus, shred the carrot with adult supervision, cut bell pepper into smaller strips and use scissors to cut seaweed. Roll the cucumber slice with ingredients inside... and EAT!!
"Nigiri"
1 batch of Rice Crispy Treat
Swedish Fish
Fruit Roll Up, preferably green
Spray hands with cooking spray and mold rice crispy mixture into nigiri rice. Lay Swedish fish on top and wrap with a strip of fruit roll up.
Last Friday was our very first Daddy Daughter dance experience. The theme was Beauty and the Beast and can you believe that out of all the princess dresses we own, we do not have a single Belle dress. Luckily a friend saved the day and gave us 1 of her 3 Belle variations. Watching my daughter get ready for dance was delightful, she squealed with excitement all day. Watching her little sister was even more fun. Little Miss was so giddy and genuinely excited for her big sister's big date. I flashed forward to the years ahead of getting ready for Prom, formals and one day very far from now, weddings. I need time to slow down, stand still even, so my brain can fully process all the excitement and precious events that are whirling around me. I am going to blink and my husband will be walking the girls down the aisle. So maybe, on this Monday morning, rather than feel overwhelmed at the piles of clean laundry begging to be put away, I should breath in the smell of the girls clothes as I slowly fold and put it away. I should smile instead of frown as I trip on their dolls and shoes left astray on the floor and leave the fingerprints smudged on the coffee table that will one day be a distant memory.