Mondays can be crazy. I guess it depends on what the weekend was like, if I hosted events at YCA, if the schedule was jammed pack with activities or if we had Sunday to regroup, rest, & recharge. This weekend was not a rest and recharge kind of weekend so Monday morning hit me like a slap in the face. It was a double whammy that it is also the first of the month, which means I have monthly business obligations due. That, coupled with an overgrowing list of house chores, the "to-do" list was rather lengthy this morning and it felt like the walls were falling in. So I strapped on my tennis shoes and took the family for a walk. Nothing clears the mind like being outside & getting in a little physical activity. The day has been reset and we are ready to tackle the week with our best foot forward.
With that said, the best way to start the week, in my opinion, is to make sure my family is well fed and that includes sweet treats. I do not like to rely on pre-packaged, processed snacks or treats where I can possibly avoid it. If we are going to #treatyoself, I want to be prepared so we are doing so while still filling our bodies with nutrients that will increase our overall wellbeing and optimize how we feel rather than leave us with a sugar buzz.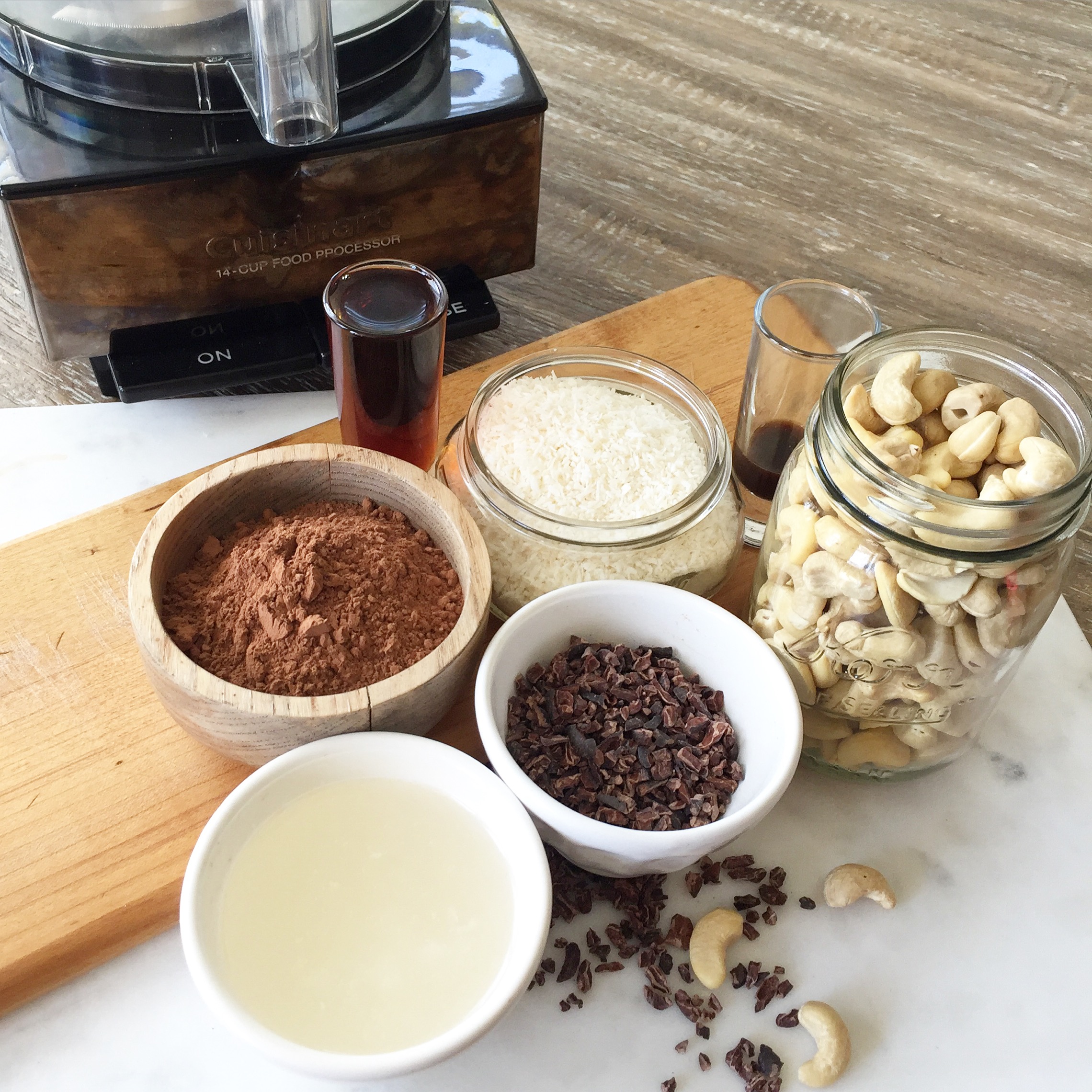 When I decided to do a 21 day sugar detox, I decided we are cutting out processed sugar would allow some pure maple syrup as well as raw honey in our diet. These chocolate truffles call for pure maple syrup to add sweetness. Make sure to use pure maple syrup on not processed syrup with high fructose corn syrup. The health benefits would not be the same. The remaining ingredients include cashews with a punch of protein power, unsweetened coconut flakes & coconut oil, providing healthy saturated fats that help convert bad cholesterol into good cholesterol to support heart health, and Cacoa power, a superfood with antioxidant power that helps to lower blood pressure. So these "sweet treats" are actually beneficial for your health. So go ahead make a batch and eat a few. They can be stored in a airtight container up to a week, or as long as they last.
Pretty cool side note for all my Fresno Foodies, the Cacao nibs are from a local company, Molucca Chocolate. You should definitely check out their chocolate bars. So yummy!
As for the ganache topping, you can measure all of the ingredients into a jar, close the lid, and shake it well to combine. Then you can store the extra chocolate sauce in the jar, in the fridge. I like to dip strawberries or a spoon into it on occasion to satisfy the after dinner sweet tooth. You will thank me later for this tip.
Since I pretty much make these weekly, I have a pretty efficient process worked out for making these. I will make the truffle base in the food processor, once the "dough" forms, I place the entire container in the fridge to let it set. At that time, I will make the ganache topping in the mason jar. Then remove the base from the fridge and roll into truffles, placing them on a plate but not allowing them to touch. Place the plate in the freezer to let them set. At this time I put away all of my ingredients and wash the food processor and store it away. Then remove the plate from the freezer and place all of the rolled out truffles on a cookie sheet. One at a time drop a truffle into the ganache topping. Use a spoon to remove it and place it back on the cold plate. They will set pretty quickly because the plate is cold so if you want to sprinkle on sea salt or shredded coconut now is the time to do so. You can place them in an airtight container to store them in the fridge.
CHOCOLATE TRUFFLE GANACHE BASE
1 cup shredded coconut
2 cups raw cashews
3/4 cup cacao powder
1/4 cup pure REAL maple syrup
1/2 cup coconut oil
1/4 cup cacao nibs
1TB vanilla
1 tsp salt
In a food processor blend coconut & cashews for 10-15 seconds. Add in remaining ingredients until well combined and a paste forms. Place in fridge to chill for 30 minutes.


With your hands, roll balls into truffle size spheres. Place in a freezer to set for 20 minutes.
GANACHE COATING
1 cup coconut oil
1/2 cup maple syrup
1/2 cup cacao powder
1 tsp salt
1 tsp vanilla
Blend all ingredients in food processor or blender.


Coat chilled truffles using a fork. Place on plate back into freezer to set up.


Store in an airtight container for 1 week (or as long as they last, which isn't long in my house)
If you would rather see a video tutorial, check out the video below for a how to guide. (Please excuse the drawer cracked open in the back ground)