For the past 4 years my husband and I have hosted an adults only Halloween party at my business. Our friends all work so hard (and parent so hard) that we like to be able to host a night out where everyone can enjoy and actually be able to converse without chasing after a little rug rat. This year we thought we would change things up a bit and decided to host a family party, in our back yard.
We love our backyard, it was the selling feature when we first saw our home. I foresaw hosting parties & gathering for years to come. (Side note, we moved in 2 years ago today.) Our yard is an open lawn which creates a blank slate for entertaining, but in order to accommodate our guests we needed to rent some tables & chairs. If you rent tables & chairs, you need the linens to go with them. I highly recommend renting linens for an event because it allows you to utilize colors and fabrics that you might otherwise not use. The other bonus is that you do not have to clean them or better yet, store them. I met with my friends at Expo Party rentals to take care of our party needs. I visited the location to choose my items. The show room is inspirational with table set ups & decor. It got my wheels turning about my Thanksgiving table set up but let's focus on one thing at a time.
I was having trouble deciding my linen color, so was able to tour the warehouse to see colors samples to get ideas. It was immaculate & very well organized. The floors were clean enough to lay on. Every piece of linen, china, and flatware, was wrapped in plastic to maintain cleanliness during storage. The tables & chairs were all in great condition. You could tell there was pride of ownership & it is a well run establishment. I found the prettiest table covers and finalized our rentals. That same day I finished ordering the rest of our costumes from Amazon & planned the games for our event.
The only thing standing in our way was R-A-I-N.
We happily accept & welcome the rain but with the forecast predicting over 50% chance of rain at the exact time of our party I was a bit nervous. Yikes! With 60 people attending, there was no way we could possibly host the party inside. At the last minute Expo provided 2 tents to cover the party area. The team delivered everything 2 days prior & popped up the tents. It was a saving grace to have the tents because it kept the ground dry from the down pours leading up to the party so we were able to set up. It also rained for the first 30 minutes of the party but that didn't slow anyone down. In fact most guests were greeted by a beautiful double rainbow. Random side note: Ever since my Dad's passing 5 years ago, and I've always believed rainbows are his way of showing me he is watching over us.
When hosting parties there are a few tips & tricks that I utilize to pull off a successful event.
The Set Up: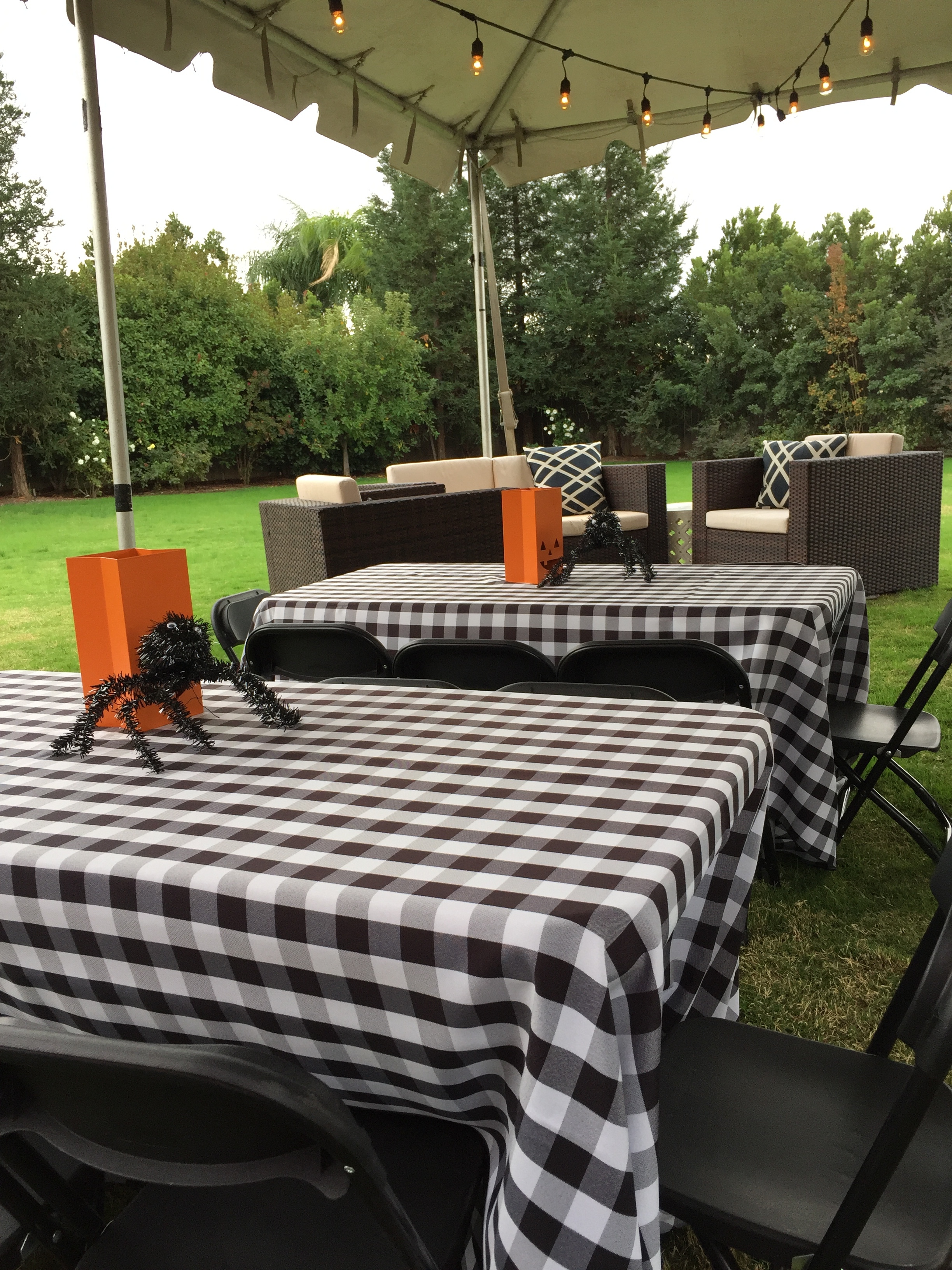 My go to rental item is always "high boys" or cocktail tables because having them in the space facilitates movement and conversation. When there is too much seating, we have a tendency to park it on our bottoms and stay put. They are also great for allowing parents holding a child to eat while standing.
I did rent 2 round tables with 10 adult chairs total for people to have a spot to sit and eat. I also had an additional 10 chairs of my own that we scattered throughout the space. We set up 2 small rectangle kids tables with 20 chairs to make sure the kiddos had a place to eat. This table also served as a craft area too. In the back corner of the tent, we set up our lawn furniture to create additional space for relaxing.
Check out the table cloths!! They are gun metal sequins. Great for setting the mood & making a killer first impression. This is definitely a great rental item to add a special touch to a party. I also rented purple round linens & black & white checkered linens to provide some variety & keep the eye moving throughout the space.
We rented a castle bounce house from All Around Bounce House Co. It is my 2nd time renting from them. Both times I received great service with very flexible pick up & drop off times. I have always been leery of renting bounce houses because I feared they all smelled like feet & were breeding grounds for germs. These houses are a mom's dream- super clean. My daughter jumped for 3 hours straight. It provided the best entertainment & insured a great night's sleep.
The Decor:
When we first started decorating for Halloween my daughter requested spiders so I took the idea and ran with it. We hung spider webs on our front porch and created a spidery entrance with a large spider climbing up the wall & spider doilies taped to the wall.
The climbing spider is easy to recreate with a black balloon, crepe streamers, & 3m sticker or tape.
My favorite decoration of the night is the Spider Illuminaries that were on the tables and scattered throughout the house. To recreate at home you will need:
mason jar
spider web
plastic spiders
battery operated tea light candles
Cut a 5 inch piece of spider web. Place a tea light candle at one end and wrap the material around to cover it. Put it into the jar and carefully slide in a spider. Voila!
Over the years I have collected various decorations but one of my all time favorite are the plastic chains. I purchased them at Wal-Mart a few years ago but saw them still there this year. I used black mesh fabric to drape over the tables that I also purchased from Wal-mart a few years ago.
The Food:
I made a few batches of my Damn Good Chili & Sour Cream Cornbread. You can get the recipe here. I also made 3 batches of a Fall Sangria. I like to serve adult beverages that can be made ahead of time to prevent us from standing at the counter making drinks all evening. On the invitation I asked our guests to bring a appetizer or dessert with a Halloween flair. I have to say, I was very impressed with the food served. I have to mention a 4 year old guest made the Oreo spiders pictured.
The costumes:
With 60 guests in attendance almost 100% were in costume. I unfortunately didn't snap pics of everyone but there were some pretty cute disguises. I have to say the mama dressed as "Pinky Pie," complete with pink wig, was my favorite.
I did plan a few games but the bounce house stole the show so we did have the kiddos "bob" for donuts hanging on a string. The kids decorated mini haunted house boxes filled with snacks that they got to bring home. I had rolls of toilet paper ready to go to wrap the kiddos up like mummies and have races.
At the end of the party, clean up was pretty simple. I didn't have to wash too many dishes since I prepared the food the morning of and guests took home most of the serving platters. We shook out & folded the linens and stacked the tables & chairs for pick up. Next year we might go back to hosting an adults only party but we will see.
Hope you had a Happy Halloween!